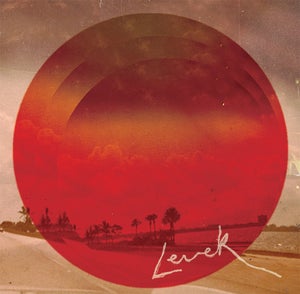 $

7.00
David Levesque aka Levek has been crafting some incredible a capella meets Afrobeat meets Disney vibes for a while now and we became instant fans at first listen. You may have heard his killer Dirty Projectors or Grizzly Bear covers on a few of your favorite blogs.
The 7" is limited to 500, pressed on RED wax. Digital download includes two 7" songs + 3 bonus tracks. Vinyl orders come with instant digital download and are shipped 2-3 business days from date of purchase. Domestic orders are shipped via USPS Media Mail. International orders ship via First Class International.
Listen: "Look on the Bright Side"
"With the remarkable amount of musicianship packed into just three minutes, what's even more startling is how breezy it all feels; it's easy to close your eyes and imagine a sextet of seasoned players in Hawaiian shirts just floating through their parts on a stage cluttered with instruments. And then, when you open your eyes-- whether after the first or 50th listen-- the fact remains that this is almost completely the work of one person, and that fact never ceases to be very surprising." -- Pitchfork
"Levek, where ya been all our lives??" -- The FMLY
"How one can make such complex, gorgeous and well-produced tunes by himself is really beyond me. David Levesque seems to have exactly what it takes to mastermind material the way Sufjan Stevens or Spencer Krug both do so well." -- I Guess I'm Floating
"He's got my attention, it's about time the rest of the world caught on." -- The Tape